Play Epic Battle Fantasy HTML5 Game Instruction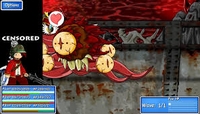 Description
:
Epic Battle Fantasy is a very interesting flash fighting game. A turn-based and class-based battle game for enemies. Your task in this game is to control your characters to perform attacks against each enemy class.
First, you will be buying weapons along with many spells to assist you in the course of the battle. These weapons all have very detailed information about their abilities and usability.
You control two characters with two different shapes, fighting ability and using magic are also different. Each person will have a turn to hit or use the magic that is up to your action strategy. Strategies that both destroy enemies and increase your health, you know the flexible combination. Every time an attack of your character, you click on the action you want to perform then it shows red circles indicating the location you use or it will directly work for you or against prime.
Your enemies appear in each character class, each class can have 1, 2, 3 or number of characters. It may be a character, but it has more power than the two of you combine, so you need to have a reasonable strategy to destroy. Each character has the same or different appearance, characteristics and ability to fight. The further the level, the stronger the enemy and require you to use special abilities to destroy. If you let the enemy lower your HP, you need to reload it before it runs out. The HP bar means that your character will die.
You and the enemy each have a turn for each character, the plays for each side will rotate alternately until one of the two sides is destroyed. If you are defeated, you will play this game again, and if the enemy is destroyed, you will fight the next enemy class.
You need to use proper combat tactics and upgrades to improve your fighting skills and kill the enemies.
While playing, if you need instructions, please click on help in the right corner of the screen or there are some other options that you can click to use it.
Fun fighting games can be played with Android, iOS devices, computers, and you can download your device to play anytime, anywhere, even when you do not have an internet connection.
The game will bring players interesting moments to help you kill time very effectively.