Play Awesome Tanks 2 HTML5 Game Instruction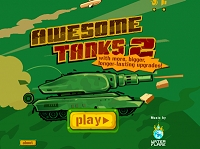 Description
:
Awesome Tanks 2 is a fantastic shooter. Your task in the game is to destroy the enemy tanks and collect money.
You control and movement of a tank around the various levels – as you move you must try and take out the other players with your deadly cannon.
Make an awesome tank by buying upgrades to cause the maximum destruction. Collect coins to purchase upgrades for your tank, purchase and improve weapons.
Awesome Tanks 2 have 15 challenge levels to beat and use 10 weapons to fight.
New tactical gameplay mechanic – sneak up on your enemies from behind, hide in bushes.