Play Zombotron 4 HTML5 Game Instruction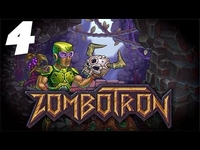 Description
:
Zombotron 4 is the latest version of the horizontal screen shooter game combined with a twin-stick element and a bit of immersive. Once again, you must save the planet from evil zombies. The enemies are trying to invade your homeland, so you need to stop them all before it's too late. Your spaceship crashed, and you find yourself in a creepy desert, surrounded by filthy monsters ready to tear you to pieces. Fortunately, you have a powerful laser gun and a smart suit that heals your wounds and allows you to jump very high. Explore every corner of this bleak world, open chests to find various useful items, and skillfully use the things you see around to avoid countless enemy attacks.
This time you will deal with more terrifying zombies, the game becomes a lot harder. No matter how hard it is, it would help if you tried to shoot down all enemies with your weapons to defend themselves from their attacks.
Zombotron 4 brings a run and gun experience quite attractive and exciting when combining many old and modern gameplay elements in a balanced and harmonious way. If you love the original series on the Flash platform, you will almost certainly love this new version except for the increased difficulty. Even for the first time with this series, this is still a remarkable name of this genre. However, some of the nostalgic gameplay elements of Zombotron 4 may make those who have never played the flash version before experience a little initial difficulty to get used to.