Play Stick Squad HTML5 Game Instruction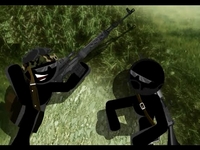 Description
:
Stick Squad is another version of the Flash game series about the famous stick-stick character.
The world in Stick Squad is being threatened by hazardous and extreme stick-terrorist organizations. The day and night threaten the lives of people everywhere across the globe. The bombings, shootings constantly occurred, affecting and harming innocent civilians. The threat is ever greater when terrorism strikes the city, plundering it to strengthen its power against the nations of the world.
In the Stick Squad game, you will transform into a sniper with super shooting skills, join a challenging journey in the battlefields around the world and explore fascinating stories.
Shoot and show your excellent marksmanship to kill all the terrorists through thrilling, speedy, or taking precise, careful, aiming time to eliminate them from far.
Stick Squad has all 30 missions, each of which requires players to have a unique approach but must bring the same result: exposing enemies' bodies on the battlefield. To wipe out all opponents, you can choose from over 20 weapons, each with a lot of different upgrades.
The tasks you need to perform will be in the Missions section, while to upgrade and exchange guns, in the Shop section. The 3 main weapons you will use are sniper rifles – Sniper, rifle – Assault, shotgun – Glock. Move center and aim with the mouse, replace bullets with the R key.
Note that there are always suggestions in the missions, and you should take advantage of the Reset function – play again to get the maximum score.
Feature of Stick Squad
Funny but fascinating story.
More than 15 weapons with loads of upgrades.
More than 30 diverse missions.
Fully customizable character.
The slow-moving effect of bullets flying to enemies is very beautiful.