Play Clear Vision 5 HTML5 Game Instruction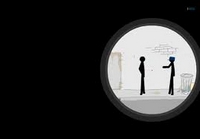 Description
:
Clear Vision 5 is an exciting shooter in which you will have to take advantage of the sniper gun to complete the tasks that will be assigned to you in the game. There is a good story behind the missions and this is the fifth game of the series. Go to the game, you will control a stickman and your task in this game is to take guns and shoot thugs bad to wipe out all your goals without harming the common people. Shoot whenever you get a clear shot for perfect destruction. Complete missions and eliminate your enemies with your deadly sniper skills. Working through the original missions has created an elite sniper!
This game will have a lot of different missions, each mission is a challenge for you. In each mission, you will assassinate the target your customers want. After completing a mission, you will have money. You can use the money to buy new weapons. Note: To hit the target, you must pay attention to the wind and high.
This game has simple graphics, suitable for all ages, especially children and families. You can experience this game on your browser as this is a flash game. Do you think you will win and accomplish all the goals of the game? Start now to prove it.