Play Bullet Party HTML5 Game Instruction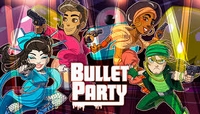 Description
:
Bullet Party is a realistic first-person shooter game in which you have to take tactical and realistic action to defeat all enemies. Try to live as long as possible. Log in and find your room. You can also create your own room and decide how you want to play.
Coming to the game, the player will have to be in a vast battlefield against real enemies. You can choose; Your fighting style, strategy and gun. You need at least 100 kills to become the best killer under strong enemy fire and air force with a massive attack. Come to the game to show off your fighting skills to prove yourself in the war. Be careful with the hidden killer speed never falling; don't let your guard down.
Taking part in a first-person shooter game, players will engage in incredible battles. Coming to the game you can see, wherever you go in this Bullet Party video game there will always be a story with you to protect yourself from other hunters. It would help if you always tried to protect yourself because attackers never leave without losing a few lives to death. If you don't wait until the game allows you to revive, then die as many times as you can to watch other players kill you.