Play Dead Zed HTML5 Game Instruction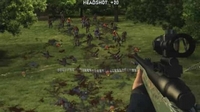 Description
:
Dead Zed is an addictive new zombie shooter that challenges you to defeat hordes of zombies in the name of survival. As you pop heads, you'll earn cash that you can spend on new weapons and upgrades, which allows you to kill even more zombies with more ease. To help ease you into this post-apocalyptic nightmare, we thought to put together a beginner's guide.
We'll talk you through how Dead Zed works before putting together some tips and tricks we found useful while playing. With quick reflexes, a little problem solving, and some rescued kittens, players make a violent exit that won't be forgotten by their captors.
This is a zombie game that brings out your inner child, then chews on its brain. Shoot the zombies, organize search parties to look for survivors and new weapons, manage your group to defend and repair your safehouse. Try and stay alive until they come. You will find other survivors, and you can assign missions to them. Shoot the zombies and make sure they don't go near you. Find new weapons and use them to survive!
Features:
- Lighthearted visuals and storyline infectiously bring a smile to your face.
- Gamepad and keyboard support with custom keyboard rebinding.
- Challenge Stages will test your skills after completing the main game.
- Charming hand-drawn characters, animations, and effects.
- Achievements and trading cards.
- Digital artbook showing a sample of our creative process.
- Cats In tinfoil hats
Tips: Each survivor has its own set of skills. Use them wisely when distributing them into parties. Have at least someone with higher fight skills in your search party; this will increase the survival chance of the whole party.