Play Jelly Escape 2 HTML5 Game Instruction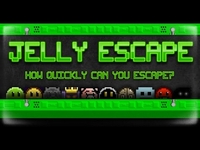 Description
:
Jelly Escape is back with the second version with more game modes, more colours and more rage.
In the Jelly Escape 2 game, your main task is to help each jelly escape by completing a series of interesting and fascinating platform levels. Find a way to escape for our Jelly – Jelly Candy by clicking the mouse, so Jelly jumps up or down to move in the map and avoid obstacles. There are a number of different difficulty levels, each allowing you to control a different coloured jelly. It would help if you made it until the end of the level in the shortest amount of time. In each level, you have to skip a series of obstacles like fire pits and avoid being killed. As you progress, obstacles become more and more difficult and challenging. When you have completed a level, you can replay it to try and get points faster. As you progress, you can also unlock 9 different jelly skins that you can play with. Run through great challenging levels, discover many new features and collect all energy to unlock bonus levels and jellies. Collect all the lightning and reach the portal in each level. Avoid fire and other jellies.
Feature of the game Jelly Escape 2
- Over 50 levels
- More than 15 bonus levels
- 18 Jelly skins that can be unlocked
- Put jellies everywhere!
- Special guest jelly from famous games!
- Original music unlockable for download!
- Global ranking system!
- Celebration of great victory!