Play Doodle God Blitz HTML5 Game Instruction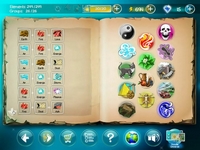 Description
:
Doodle God Blitz is a very engaging puzzle and construction game. In which you will mix and match different elements to create an entire universe. In one day, you will not create the world and You will have to work from a simple microorganism to create animals, tools, storms, even build troops and lots of other things needed to build the universe.
Various elements you can combine for example fire, earth, water and air and their combinations
Players use logic and ingenuity to create a world filled with locomotives, Dragons, skyscrapers, aliens and more.
The game has more than 100 new elements and missions, a colorful planet with full of new elements and modes with items, missions and puzzles, new episodes such as the modern era, technology and the magic world.
After you successfully create a new item, you will be rewarded with the intelligence and wisdom of some philosophers.
The game helps you feel the power of creativity in your own hands and helps you practice creativity.
The game is completely free however, some items can be purchased for real money such as quizzes and high-level quests.
The game is suitable for all ages and with interesting gameplay that has addictive for many people.