Play Zombotron 2 HTML5 Game Instruction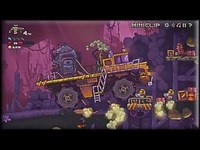 Description
:
Zombotron 2 is a great sequel to the Zombotron game. Your mission is to save the trapped comrades, the whole planet is flooded with zombies. You must use your weapons and skills to defeat them and return come home safely.
Zombotron 2 is an adventure genre combining shooting with a quite new style with a reluctant journey on a mysterious planet. During an outer space trip, your spacecraft encountered a serious technical problem and crashed on a distant, mysterious planet. That is the planet Zombies and your adventure will start here with single support of a shotgun.
Your mission in the game Zombotron 2 is to complete this mysterious planet expedition by destroying zombies. Throughout the journey, there will be many treasures and helpful assistance for you to reach and retrieve them. When killing zombies, there will be bonuses, but you must reach them to receive and use this money to upgrade your weapons. Start your journey on this mysterious planet, kill zombies, explore treasures …
Zombotron 2 has all 16 rounds for players to pass, each round will have an increasing difficulty level. Try to destroy any zombies that discover you, taking advantage of the obstacles available
Explore this world and make your way through a series of tunnels, paths and platforms and kill every zombie on your way. Graphics, music is great and the gameplay is interesting but challenging; this is an improvement of Zombotron 2 compared to the original version.