Play Ultimate Flash Sonic HTML5 Game Instruction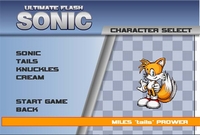 Description
:
Ultimate Flash Sonic is an exciting game that takes you on another great Sonic adventure. You must control Sonic and help him defeat all enemies that stand in his way. Smash all obstacles on the road and collect rings. Be careful not to lose your life and do everything to conquer this adventure.
For a few people who have never played Sonic the Hedgehog, the rules are simple: run fast, collect rings, run faster and avoid being killed. Jump across multiple platforms to overcome all dangers, dashing out from tough opponents. Ultimate Flash Sonic is simple and classic but still completely addictive. There are four playable characters at the start of the game with 2 secret characters to unlock. Play as Sonic, Tails, Knuckles or Cream and show off your skills.
Playing Ultimate Flash Sonic involves navigating characters through various traps and obstacles until they reach the target endpoint of the stage. While approaching the end of the period, one should earn as much gold as possible to gain more lives and defend against attacks. The gold coins are emitted from the character when the character encounters spikes or enemies, some coins can be restored when they are emitted but they disappear within seconds.
If the character loses all their coins and gets attacked or some other kind of damage, the player must begin the level and the character will have a short life. The password is provided to give the user the ability to return to the last completed level and continue playing the game. The password is entered in the options menu of the Ultimate Flash Sonic game menu.