Play Wheely 7 HTML5 Game Instruction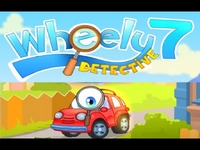 Wheely 7 – Everyone's favorite red car adventure continues in the seventh game of the popular series! A lot has happened to him in his previous adventures, but nothing can stop Wheely from wanting to experience more! Detective Wheely is back and needs your help to solve the case in his latest adventure! After his fairy tale expedition in Wheely 6, our friend came back again for more exciting and clickable adventures. This time he set out to be a detective and traveled the world. The 7th episode of the Wheely series with the main story to become a detective and regain stolen gold coins. Different villain models. Many levels to complete.
Normally, a trip to the bank won't work, but you're in Wheely's world, where even the simplest things turn into an adventure that will suck you in! After sending the money and returning home, Wheely heard the siren from the bank. Stealthy cars stole everything until the last penny and Wheely had to catch them. Take your magnifying glass and your detective shirt. Time to investigate!