Play Happy Room HTML5 Game Instruction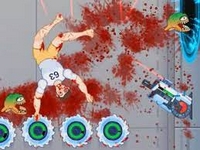 Description
:
Happy Room is a brutal and bloody simulation video game where you control a secret lab that performs damage tests on dummies for insurance companies. However, this lab is a bit sinister, because they are using super realistic test mannequins, which upon closer inspection are actually human copies. Check the limits of the clones and damage them far enough to have enough money to research new weapons, unlock new technologies and increase your daily budget.
In the game, you own a very modern laboratory and use the clone model to test weapons. The game offers countless copies so you can try your weapons creatively on your own. Your goal in this bloody lab simulator is to cause as much damage as possible to the living fake ones. Put all kinds of traps and weapons on the screen and try to complete all the missions assigned to make money in order to continue buying and upgrading new equipment for testing. Your mission at each level is to combine available weapons and arrange them to maximize the damage to persistent copies. Most tasks require manipulating with different tools to accomplish very specific goals. The weapons are only entertaining and include different types of guns like machine guns, flamethrowers … the same type with different animations. The game becomes more dramatic with advanced weapons like rockets, explosives, etc. The game provides more blood and slow motion to increase your awareness. In the game, all weapons are purchased with cash.
You earn money by completing the missions given by the game, but the most modern weapons can only be unlocked by unlocking levels to explore and experience the entire game. You try to complete missions to earn money and buy and upgrade equipment, unlock all weapons and gain experience. You kill as many copies in the laboratory as possible, while avoiding traps and completing assigned tasks.