Play Wheely 5 HTML5 Game Instruction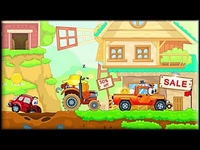 Description
:
Wheely 5 – Whose lawnmower broke! Go to the store, on a journey, and into outer space to get back. And save the world!
Wheely is back for a whole new adventure in Wheely Armageddon! Children of all ages will enjoy over a dozen new logical puzzles. Drive through traffic jams and manoeuvre around a ship, this is the most amazing adventure!
What began as a normal day for our shiny red car, Wheely, turned into a whimsical action-adventure packed in the fifth version of this game. Are you ready to face the chaos of panic citizens causing frantic traffic jams when a meteorite rushes to Earth while you just want to change your broken lawn mower?
In the Wheely world, even a mundane errand such as mowing the lawn can become incredibly fast! Join the wheely shiny red car on his 5th adventure and see what begins as a normal day turning into an action-filled adventure! Replacing a broken lawn mower should be an easy job. But not when an Armageddon happens!
Wheely's world is in danger! A meteorite falls to Earth. Help Wheely find his way through all levels of Wheely 5 Armageddon. Solve puzzles, find all objects and stay away from danger.