Play Shell Shockers 2 HTML5 Game Instruction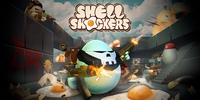 Description
:
Shell Shockers 2 is a continuation of Shell Shockers game, in the game you will be able to join the battle of fearless and cruel eggs. This is a cruel and careless game with players from around the world, with more beautiful and fun graphics with the new version.
To start the game Shell Shockers 2, enter your room, choose a nick of your own and explore all the eggs you encounter. Beware of deadly enemy eggs, destroy all enemies with machine guns and pistols. Jump, jump and hide from other players eager to turn your yolk inside out. Get yourself a machine gun, a shotgun or even a grenade launcher and start chasing hard shell enemies on the map. Shell Shockers is a crazy online game, allowing you to shoot and shoot away all enemies around you. Be sure to see your back, and there is always enough ammo in the chamber. Because you never know where the next ambush will come from. Show how talented you are and survive these relentless egg battles.
In this crazy multiplayer game, you can use the WASD keys to fire rockets at your enemies, just like in many single-player shooters you may know. Entering a new war can be quite shocking, as you witness the end of the world unfolding before your eyes. All of your multiplayer features are here: nonsense grudges against players who killed you in one shot, dislike campers and many other ways people talk ill of others.