Play Smashy City HTML5 Game Instruction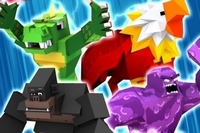 Description
:
Smashy City is a simple and highly stress-relieving action game, allowing you to transform into gigantic monsters and begin the smashing work of destroying the whole big city.
Sometimes simplicity offers the best. Smashy City, developed by Ace Viral, is a good example of that. The game has simple gameplay but offers incredible entertainment. With a huge array of monsters, your task in Smashy City is to destroy the city into rubble.
Stepping on houses, destroying tall buildings, crushing all constructions to rubble as if you were unleashing your wrath. You transform into gigantic beasts, destruction machines, and begin to take action. Of course, humans will not let you ruin their world easily.
It seems the bigger the more disadvantageous. The police, air force, army, and Swat will try to stop you in any way with your state-of-the-art weapon system. Therefore, you need to have the right tactics to both maximum cause destruction and preserve your life. Try to dodge bullets or hide behind high-rise buildings to avoid attacks. In addition, you can also directly oppose hostile forces. Crushes even planes, tanks, APCs and more.
Control monkeys, lizards, wolves, spiders and even a penguin or a giant rabbit, unlock many other characters for free, reach a record high score on the leaderboards and hit defeat your friends in this fascinating game.
Features of Smashy City
Unlock and make destruction with 52 monsters.
Each monster has its strength and skills, find your favourite choice.
Put each monster into a state of rage, become invincible, crushing everything on your way.
A large, randomly generated city is waiting for you.