Play Wheely 6 HTML5 Game Instruction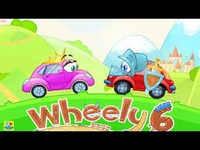 Description
:
Wheely 6 gives you more control over the happy red car. Solve puzzles in an animated world to drive away and win! At certain levels, you can use the steering wheel to turn and roll through clear roads. No obstacles can stop you!
The sequel to the awesome Wheely 5 car game. Help our friend Wheely complete even more challenging levels in Wheely 6: Fairytale! Our red beetle friend goes on an adventure in fairy tales, filled with castles, lakes and other friendly cars.
In this new instalment in the Wheely series, the little red car Wheely and his girlfriend are magically transported to the fairyland by an evil war.
Wheely comes back again in his sixth adventure: Fairytale! Children must help the red little bug complete new challenging levels from dragons, knights, castles and more!
In Wheely 6, as he immerses himself in the film, our hero finds himself in a medieval setting surrounded by knights, kings, princesses, and wizards. The princess is kidnapped by the evil witch and it's your job to help Wheely rescue her!
In Wheely 6 Fairy Tale, Wheely must be brave and rescue his girlfriend. Solve all the riddles and enjoy the exciting story of Wheely 6! 93.32% of 365 players like mobile games.
Can you help Wheely clear all the obstacles, overcome the guards and rescue his girlfriend? The king of wonderland will reward you a lot!