Play Dragon Ball z Dress Up HTML5 Game Instruction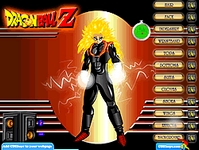 Description
:
Dragon Ball Z Dress Up is a unique dress-up game in which you will be able to choose your own costume for Songoky, a famous hero character in the Dragon Ball 7 series. Join the game, you have to Choose a setting for your favorite character. There are three different places of Dragon Ball: Kame House, Planet Namek or Karin Tower.In this game, you can use the properties of many manga characters. The key to creating a unique character and showing off the rich imagination you have.
The gameplay of this game will be similar to the play for doll, but the character here is the members of the dragon ball story. If you are a fan of Son Goku and his friends, then the game is a way for you to decorate, color, clothes for the characters in the game.
Dragon Ball Z Dress Up will start doing the job of mixing colors in the costumes of the characters according to your interests, just a little creativity and personality you will create an aspect of your choice. , a distinctive style that no one has.
It will be an entertaining game for you after stressful and exhausting working hours, the game will be free of violent situations, so it is suitable for all ages, including the elderly and children. Install the game to entertain the characters in the dragon ball.