Play Strike Force Kitty HTML5 Game Instruction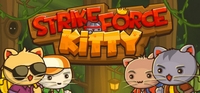 Description
:
Strike Force Kitty is a very good game in the strategy game genre that is loved by many people.
Background game Strike Force Kitty in a cat kingdom, there is a fight between the king of the kingdom and the bandits. They abducted the king's cat princess, and demanded a ransom. Too angry, the king sent brave cat warriors to find the kidnappers and save the cat princess. The group of 4 cat knights immediately accepted and set out. Please help them overcome all difficulties and obstacles along the way.
Your mission in the game Strike Force Kitty is to control 4 cats at a time to travel the long distances to save the princess. Along the way, you will meet a lot of thief tail robbers stand blocking your way. However, since the mission to rescue the princess is top priority, you need not to waste time attacking with these street bandits. But if you let one of the four cats knock them down, you have already lost an unjust warrior. Just jump over and over them and you will avoid unnecessary battles. Besides out on the road, you will suddenly encounter sharp piles appearing from the ground up.They are very dangerous, and you need to be very skillful and attentive to be able to escape there.
In this free Strike Force Kitty game, collecting lots of fish on the move will also bring you surprises, your score will increase and those fishes can be used to buy items, Accessories for the warriors. Collecting keys to open secret chests is also an interesting thing.