Play Doodle God 2 HTML5 Game Instruction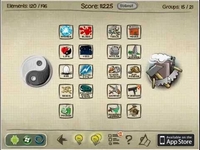 Description
:
Doodle God 2 developed by JoyBits Ltd has an improved reaction set, tons of humorous quotes, two additional episodes of games and updated graphics. The ultimate World Creation experience works your way, all the way from bacteria and beetles to clay and ceramics, to tools, weapons, and more.
The ultimate power of creating a world is in your hands again. Go all the way from the most basic of simple elements and life to creating intelligence and civilization.
But be careful, creating an entire world is not so easy – inventing the wheel can only end in a zombie plague. Free your inner deity with Doodle God 2!
Doodle God 2 is an extremely addictive game that helps you control the elements and allows you to combine them to create new elements. The goal of the game is to combine all the elements to create a total of 115, starting with only 4. When you combine each element, you create new and increasingly complex elements.
If they match well, then a new element will be added to your list and if they don't, let's say the elements won't be happy and shake in rage. Enjoy playing this fun puzzle game regardless of your age and find out what it wants to be a god or alchemist.
With this game, you can experience creating the world with just four elements! Create everything from bacteria to weapons and more. Be careful! Creating a whole new world is not as easy as listening!