Play Dragon World HTML5 Game Instruction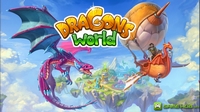 Description
:
Dragons World is a fascinating 3D strategy action game, the community feature in the game is pushed up very high.
Dragons World will bring you back to the time when dragons were still in the sky, dominating the world. In the game Dragon World, you will be a boss who can simultaneously own dozens of Dragons, with the task of caring, raising, training dragons and fighting with them, with your own power. Dragon training field, take them to battle, expand the kingdom. Dragons World is built beautifully and equally fanciful with a collection of hundreds of dragons with different looks and skills divided into systems according to the elements: Earth, Water, Fire, Wind, Magic, Light … Different types of Dragons will possess 1 to 3 elements in themselves, but this type of Dragon is extremely rare because their power is a combination of all 3 elements.
Your initial task is to raise the basic dragons with the aforementioned systems, farming for food or the missions that the game offers to gain more Gold. Ban together to create new dragons with more attributes and stronger.
When you have the right dragons, quickly train them and join the fiery arenas to win with rewards.
Dragons World has simple gameplay, but it is not so easy, players can be quite easy to get acquainted but quite difficult to become a master. It can be said that Dragons World is an action strategy game. Because the tactics lie: you have to build the most reasonable works, calculate the food resources, train properly, expand the territory … The action is in these battles. fire between dragons together.
Functions:
3D graphics and easy to change viewing angle
Hundreds of unique and varied dragons
Bring your dragon to play against other players
Buy new islands to expand your sanctuary
Visit a friend's island and exchange gifts
Online scoreboard for competitive players.