Play Awesome Tanks 3 HTML5 Game Instruction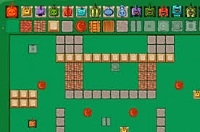 Awesome Tanks 3 is the third installment of the Awesome Tanks game. Awesome Tanks 3 is packed with many new features, graphics and updates that will make you more excited.
Your mission in the Awesome Tanks 3 game is to control a series of tanks to destroy all your other opponents, destroying their bunkers and turrets one by one, causing all your opponents to mercy. The objective of the game is to defeat all enemy tanks and destroy their base without being killed first. Underestimating the enemy is the first step in failure, so you should be prepared. You can buy 6 different turrets for your tank. From classic cannons to persistent guided missiles and even powerful lasers, you'll become a calculated force! You will face tough enemies and they will not throw confetti. Enhance your defense with 4 different upgrades, and turn yourself into an impenetrable war machine.
All new levels and weapons to choose from mid-game. You earn more upgrades when you make more money, the money you earn you can use to upgrade your awesome battle tank to turn it into a highly plated armored vehicle. There are bombs scattered in the game, so you can use them to inflict heavy blows on your opponent, there are up to 15 levels in the game and a range of up to 10 weapons to choose from. when you go to war. So moving around all the levels ensures you protect your battle tanks and cause havoc. You can unlock awesome level editor after completing all the levels. Do not forget to upgrade your weapons and stats. Try to capture all bases of the enemy, and win. Features of Awesome Tanks 3: This game has great 2D graphics Great soundtrack Easy to play Interesting and suitable for all ages