Play Zombo Buster Rising HTML5 Game Instruction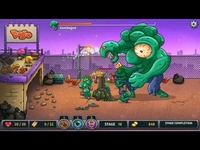 Description
:
Zombo Buster Rising is a unique shooting defense game of the action game genre. The story in the game is about a city named Medan City that suddenly gets infected with a deadly virus by a mysterious man. This dangerous virus has turned people into zombies. You will play the role of a survivor of the zombie attack, you will alone try to fight against the zombies to protect the modern arsenal. Zombo Buster and his crew perform a mission to fight against the zombies in an effort to save humanity from the overall formation. Do not worry because the squad of zombies after wiping out an area of ​​the city has received a distress signal from you, they need time to move into the city center. Just hold on to their arrival, you will survive. Shoot them all! Buy items, upgrade your skills and entice your team into this explosive sequel to live another day.
Zombo Buster Rising game also designed many rounds with increasing difficulty, the later the density of zombies increases lives longer and moves faster. Requires you to change marksmen flexibly, and faster fire rate can use some special features such as lightning bullets, bombs … Sophisticated technical graphical interface, highly interactive, good sound and image quality, bring compelling, authentic feeling for players, entertain and enjoy an enjoyable rest time.
Features of the game Zombo Buster Rising
- Sharp HD graphics, vivid contexts, thrilling and engaging storylines.
- Mode, according to the storyline, has more than 30 challenges for you, the way of survival will be endless, without stopping.
- Many types of zombies are designed quite funny, they have different names and different abilities.
- 3 characters with different special skills, upgrade those skills in each level.
- Simple control mode, just touch the target to shoot automatically.
- Many missions with increasing prizes.