Play Duck Life 3 HTML5 Game Instruction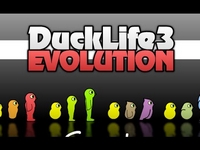 Duck Life 3 is a fun game for kids of all ages! Train the duck to become a champion racer so it can regain the farm. Run, swim and fly to become the leader of the flock! This is a game based on mathematical skills, a farmer invented genetically modified ducks, each with a certain skill, benefit and trap. You are required to choose 1 of the 4 ducks and train them until they become masters of their skills, then work your way from level to level, developing your duck with each Tournaments you successfully overcome. You train your duck skills by completing small math games and when you are sure you are skilled enough, you have to go to the races where you will beat the other ducks through each stage of the race. race to pass a game-playing tournament you need to control the duck jumping, control the duck's flight direction and make sure the duck dives while swimming and navigating the water.
After you finish a tournament and progress to the next tournament, your duck is developing into a better form. Hone your skills by completing mini games, and when you're ready, head to the races. The races are divided into qualifiers and finals, you need to beat them all to pass the tournament. Have fun with Duck Life 3!