Play Mighty Knight 2 HTML5 Game Instruction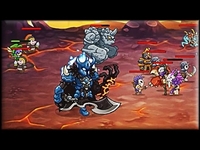 Description
:
Mighty Knight 2 will put you in the battle against the legions of monsters. Stop the bad guys from destroying your peaceful world. You will have to prove yourself as a superhero. There will be a lot of upgrades." new for you to be able to defeat anyone who wants to stop your footsteps from moving forward.
Medieval times, the knights were dubbed the heroes. That dream may not be far away for you if you try the game Mighty Knight 2. Let's transform and fight. When playing Mighty Knight 2, you will be transformed into a hero with a sharp sword and a solid shield on his hands. An armor of iron on him and knock out the king's soldiers step by step.
In battle, pay attention to the angels. They will be of great help to you in the game Mighty Knight 2. Let's stand up against the hostile forces and take victory on the crown of glory.