Play Battle For The Galaxy HTML5 Game Instruction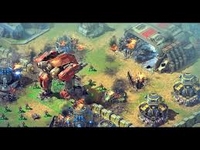 Description
:
Battle for the Galaxy is a strategy game built in a fantasy war style. In the game, you take the role of commander of a robot army, build strongholds, fight and upgrade them to become a mighty army to attack other enemies.
Battle for the Galaxy is built in a combination of tactics and defence. Your task is to create a powerful army of robots and join the corporation with other players. Then, lead your forces to attack opponents to gain glory and valuable resources in online PvP matches.
Join Battle for the Galaxy, first, you have to build a strong stronghold, then recruit the army with robot warriors including marines, rocket shooters, giant robots, warships and many Other units are ready to fight for you.
Battle for the Galaxy will bring you to top-notch tribal matches, along with future modern machines, beautifully designed, detailed to each screw.
More specifically, after each victory game screen, with the spoils obtained, players will be able to use to upgrade the defence system, buy the best weapons … The higher the level, The more powerful firepower and ecstatic fighting ability help you destroy the fastest enemy.
The game is designed with beautiful 3D graphics, sharp and bright colours. Fire smoke effects combined with realistic sound, giving you the feeling of being fighting.
Features of the game Battle for the Galaxy
Excellent graphics and art.
More than 20 buildings to build and upgrade to turn into a mighty fortress.
Recruit an army of Marines, rocket shooters, giant bots, warships and many other units ready to fight for you
Create a Group with other players and combine to defeat the enemies
Participate in each type of fantasy battle and receive prestigious rewards: winning League, Tournament, Doubles and Raid.
Complete daily challenges to receive exciting rewards, log in every day and collect valuable rewards.