Play Gun Mayhem 2 HTML5 Game Instruction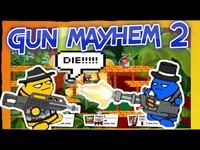 Description
:
Gun Mayhem 2 is an arena of fierce battles when transformed into the Ganster with the famous shooter skills to fight together. Let's start with this unique online mini-game to have seconds. My test minute is exciting.
In Gun Mayhem 2, in the beginning, you will be able to choose a character with a number of different shaping methods when changing the shirt color, the skills are allowed to choose to use. The game modes are very diverse such as playing only a single person, team fighting, form of dangerous battlefield mode, the form of one-hit by a network, gun mode or reverse gun and jet. Some game modes you may not understand how to play, but when you enter this fascinating fighting game, you will get acquainted very quickly.
There will be a lot of maps to choose from, be it a certain city, or at an ancient castle, on the highway, or on an alien planet … you can freely choose. and fight freely. Once you have made all your selections, you begin to enter the battle against your opponents. Skillfully use the combination of buttons to move your character to shoot guns, throw bombs, so that pushing the opponent out of the round, you will win.
Gun Mayhem 2 has many interesting things waiting for you to explore, try and win you all. Gun Mayhem 2 allows up to 4 players, so join your friends and relatives in this fun game.