Play Gravitee Wars HTML5 Game Instruction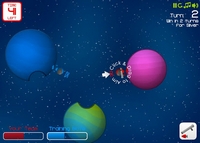 Description
:
Gravitee Wars is an addictive space shooting game inspired by Artillery.
You play as a red team. Your task in the Gravitee Wars game is to shoot rockets around the planets to destroy your enemies. Use different weapons, utilities and upgrades available. Use the laws of gravity and destroy all other coloured teams to gain an advantage in this alien battle to the finish line. Click and drag to aim and shoot. Blue lines show where your photos will go. Build a level in the level editor and battle other players in multiplayer mode.
Battle for control of the galaxy in a space-based artillery game. Slingshot shoots your rockets around the planets to destroy your enemies and use 10 different weapons and utilities available. As you progress, you will earn up to 50 different prizes and 21 different rewards. Upgrade your team as you earn money by improving the health and accuracy of your unit or by purchasing additional units for your team.
Earn experience to upgrade your team and arsenal. Earn Gravitons to spend on items in the store. Complete medals in campaign missions to unlock bonus items build your maps and play them online. Save and share epic photos with the playback editor. You can even build your own custom weapon.