Play Short Life HTML5 Game Instruction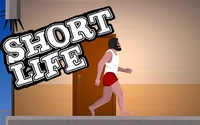 Description
:
Short Life is an exciting physics platform game with unique and horror ideas. In the game, you control a ragdoll and try to guide him through a series of different levels without any damage to him.
This may sound easy, but on the way in Short Life there are many deadly traps like spikes, saws, bombs … Choose the right time for each action so the character can jump, crawl to avoid it. Killed by the above dangerous obstacles.
As levels evolve, our characters encounter new obstacles and traps such as rolling barrels and explosive mines. Different traps will cause unimaginable harm to your hero. With mines, it will blow your character into small pieces. This game requires time and quick reflexes of the hands.
Short Life has all 16 exciting levels to complete, and you can earn a star rating for each level if completed well. If you do not want to see the bloody, scary scene, help the character pass the levels in the safest way. Please pay attention to the hints on the screen, they can guide and save your life, do not forget to collect stars to unlock many new characters.