Play Short Ride HTML5 Game Instruction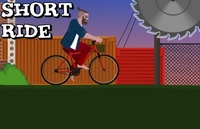 Description
:
Short Ride is the sequel to the famous Short Life game, a bloody bike riding game. This time, our hero does not walk. Instead, he uses bicycles as a means of transportation. You have to help him cycle around and avoid the various dangerous objects he comes across.
The trip will be many surprises with many deadly dangers that will be waiting for you in the game Short Ride. Sharp saws, spikes, bombs, and many destructive devices are sure to rip your limbs and even more if you can't avoid them. Each segment will be a deadly course, and you will need to be agile to avoid all the pitfalls and manage to collect three stars of each level.
These stars serve as rankings for the level and currency in the game, with new characters unlocked when certain thresholds are reached.
If you were hit by an object, you could lose limbs and blood would fly everywhere. There are many different levels to play and each level presents a different challenge and a series of new obstacles. You can complete this simple short trip and end safely and intact. Short Ride is a game not intended for children under 16 years old.