Play Superfighters 2 HTML5 Game Instruction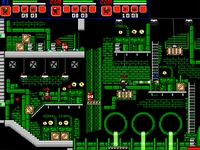 Description
:
SuperFighters 2 is a street fighter like game that moves in a whirlpool kick and pulls out your super moves to finish off your opponent. In this free 2D roaming / shooting game, you must destroy all your opponents. You can upgrade your weapons like handguns or shotguns or even buy automatic weapons. There are many different game modes, 1 or 2 players, compared to the mode, practice mode. You can set the number of bots you will be fighting in super fighter 2.
This is the sequel to the super fighter 1 where you can play against AI opponents, in super fighter 2 you can play with your friends with 2 player mode. In the settings menu, you can change the graphic quality from low to high. The quality of the effects, the sound volume, and you can edit the controls used in the game.
There is also a super advanced fighter, an upgraded and upgraded version of the super fighter. If you start the game, you will start to boot, just use the left and right arrows to move. You will then learn how to jump with the up key and bend down with the down key. Next is rolling, sprinting, diving, melee attack, shooting with guns and shooting with rifles. Finally you learn about grenades. Then you are ready to stir in Super Fighters 2.