Play Gun Mayhem Redux HTML5 Game Instruction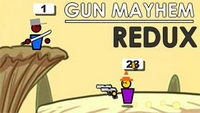 Description
:
Online game Gun Mayhem Redux is a fun, free extension published by schnapps. Gun Mayhem is back, but it brings a lot of new things. The battle with friends or the CPU. I am fighting with AI or with friends in a high octane arena with up to 4 players.
Gun Mayhem Redux is a little different from the versions of Gun Mayhem. The characters in the game and the war map are slightly reduced to have a better view and to focus on playing the game but this does not cause the excitement of this great game. In Gun Mayhem Redux, dozens of brand new weapons will be waiting for you. You will even have the opportunity to fight using primitive weapons. The battle continues on the arena with superior war maps and weapons and entertaining chapters!
The goal in Gun Mayhem Redux will be to push all players of the screen, as in Smash Bros. Random boxes sometimes appear in games, don't miss them. They contain rewards, like powerful weapons, to help you become stronger than the enemy. You can play with friends on the same keyboard or face artificial intelligence. To get started, follow the instructions if you have never played this game.
Master it all and beat your friends. Try a completely new domination mode to change the classic battle strategy.