Play Cubikill HTML5 Game Instruction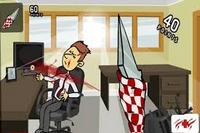 Description
:
After a bad day in the office, you're ready to go out. Start by eliminating your wrath on the computer, then move into the office worker in this violent game full of CubiKill style brings.
Cubi Kill is a flash game in which you play an angry employee who has everything with his company. In a fit of rage, he began destroying office computers and desks. He then proceeded to kill all his colleagues with a semi-automatic pistol. Join the game to help the guy break and kill things his way. This is a multi-level game, you will need to complete the given task to unlock another level. Each level has its own way of torturing and killing players.
We're proud to bring you the fun Cubikill game, join the game now to help the rage break and kill things his way. This will definitely be a game that will please any gamer because of the fun it brings. Feel free to enjoy the exciting moments of the game right now come on.