Play Hobo Brawl HTML5 Game Instruction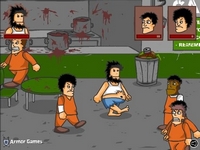 Description
:
Hobo Brawl rebels to fight and kill everyone without a specific reason. Your task is to control a character that kills prisoners and cops to escape from prison. You Will control a character to different positions, kill prisoners or even the police are not your opponents.
Use a combination of actions to destroy an enemy, such as punching, kicking, spitting, snorting, and even very unsanitary acts such as pissing at them, releasing bombs, etc. … you can also grab objects there to hit them.
On the enemy side, they can also take things and approach them, harm you, they come in huge numbers, encircling and killing you. Each character in the game is shown the health status by an index bar. When this bar is over, your life will be over.
To win in this game, require you to have flexible reflexes and ingenuity to defeat all enemies, collect weapons in prison to get a kind of advantage. Don't give them a chance to get closer, destroy them one by one.
There are many enemies with different positions during your escape, this will help you be more interested in participating in the game.