Play Clear Vision 4 HTML5 Game Instruction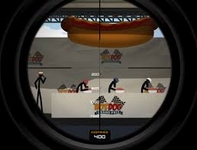 Description
:
After the success of the sniper stick versions, Eldridge has recently launched Clear Vision 4. In this version, the game will have many improvements, promising to bring many new experiences for players. If you are a fan of previous sniper games, this will be an attractive option that you should not ignore. Help our stick character Tyler complete various sniper missions, receive rewards. Become a professional assassin. By completing many challenges, kill criminals. Complete missions, eliminate competitors. Collect unique weapons to experience the amazing shooting screen.
Coming to the game, your goal is to help a killer complete various sniper missions. Complete different jobs for both yourself and others, to earn cash and experience points. You can buy guns and gun parts to perform tougher jobs and bring them to your assassination attempt. Make good use of an explosive gun, which gives you a range to kill large targets in one shot. Pay attention to the firing point when you use this gun. It would help if you focused on the red paint bucket before you shoot the gun. The most important part is that you have to compensate for the wind, not just the distance when you shoot.
In Clear Vision 4, you will live in the stickman world and you will in turn, hunt for your goals by taking advantage of an in-game sniper gun. There will be many different missions to complete in the game and you will use your gunner to destroy the target. You must be careful not to shoot citizens or you will not be able to complete the mission successfully.