Play Wheely 4 HTML5 Game Instruction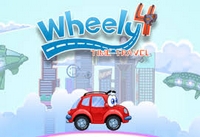 Description
:
Wheely 4 is the latest game in the Wheely game series. This time, he broke his wheel. Can you help our favourite red car repair service? Completely back to a whole new problem-solving adventure.
Discover 16 exciting puzzles, travel through time and bring Wheely home! Wheely 4 people are in HTML5 and can be played both on desktop and mobile.
Wheely 4 "Time Travel" is a sequel to the popular hit game series with red beetles. This time he had a broken tire and needed a car service. Can you help anyone?
Help cute car and adventure Once again in his fourth adventure, Wheely 4! Enjoying a simple night at the local oil café, a bird dropped a nail on the ground just as Wheely was about to drive past. Unaware of the sharp situation, he drove right on the nail and suffered a puncture. To get a new tire, Wheely had to go to the repair shop, so he found his way there, but he got more than what he bargained for when the repair shop installed the system. High technology in his car! Help him get acquainted with his new device!
Unfortunately, things got worse and he was immediately taken back to time and space and now he has found himself in a new environment.