Play Zombotron 3 HTML5 Game Instruction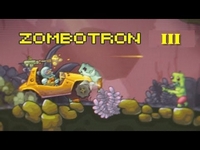 Description
:
Zombotron 3 is an action game with elements of heroes and monsters. You are called again to save the planet from zombies. Zombies in Zombotron 3 are still cruel and smarter than ever; they will continue to come to you until they are completely disabled. Zombotron Time Machine is a new entry in the Zombotron 3 universe that offers engaging gameplay and story.
The bloodthirsty zombies are swooning on its Zombotron planet what is worse than when you are trapped in the home of the crazy Zombie. Do not worry; there is nothing to be afraid of; you use your power to escape the hated zombies in this Zombotron 3 game.
Features of the zombies are to hate moving things, your task in the game Zombotron 3 is to aim each Zombie very precisely and destroy it. You also have the opportunity to receive a lot of gold and valuable items when clearing the treasure.
Free the planet from zombies and save your life, it's totally up to you. It may seem like a difficult task, but do not worry too much, during the journey, there will be a lot of help for you to reach and kill the zombies. Want to know what that help is, do not play Zombotron 3 immediately.