Play Riddle Transfer 2 HTML5 Game Instruction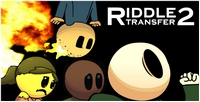 Description
:
Riddle Transfer 2 is the long-awaited solution for the unresolved cliffhanger of 5 years ago … flash player leaks were released on Newgrounds on the 10th anniversary of the Riddle School Series (May 25, 2016) . The game will only make sense if you've played or watched previous versions, so make sure to play the original Riddle Transfer first!
In the second part of the point-and-click game you play as Phil Eggtree and you have to find a useful way to get rid of where you are. You are on your way back to Earth after being abducted by aliens when your ship is disoriented and you find yourself stranded in an unknown place called Zone 5.1. Search the entire environment for helpful hints and interact with objects to find your way out.
If you like linear, step-by-step investigative games, this difficult game presents an interesting challenge. Logical and analytical skills along with good strategy when you combine many random items with your advantage. Quality animations and witty characters also create a good story.
When the credits opened, Phil and Smiley 's lives as destiny partners developed through the conversion of a photo album. He went out with friends, graduated high school, dated Smiley and eventually proposed to her. The last photo is an old Phil and an old Smiley looking happy together.
Could that be some kind of code? We will allow you to find the answer. Enjoy investigative action!