Play Hobo Prison Brawl HTML5 Game Instruction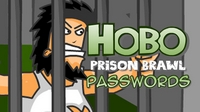 Description
:
Hobo Prison Brawl action game in which a hero character will fight with a prisoner, security guard, or government, he doesn't care about anything other than killing them. Your goal is going into an unlocked prison and escaping with your life.You help your hero defeat them by doing things like punching, kicking, spitting, blowing his nose, and pissing at them or Grab objects that are there to beat them in. Combine your movements together to create exciting and unexpected actions.
The enemy has the ability to attack you when they come close, or take weapons to hit you so you need to avoid the pursuit and attack back from the enemy not to hurt or lose your life.
You and the enemy have health alerts when this city runs out you will lose your life.
The game requires flexible reflexes and ingenuity to defeat all enemies, collecting weapons in prisons to get a kind of advantage.
Help your favorite character break out of prison and use everything you have to defeat all your enemies in this funny fighting game.
There are many rooms with different scenes in this interesting game that will help you relax effectively.