Play Run 4 HTML5 Game Instruction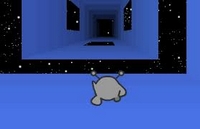 Description
:
Run 4 is an upcoming action game with jumping elements and obstacles. How long can you keep running? Find out in Run 4, the sequel to Run 3. Do not fall into space, or you lose and have to restart the level!
Run 4 is the latest version of this great series. The basic theme of the game is the same as the older version. The game has added maps and some new functions. You must run and overcome obstacles to reach the finish line.
As in previous versions, the game quality is the highest, but still for the player, the developers allow us to change the distance display as well as the frames per second to allow any gamer. You can enjoy the whole day to play the fourth sequel to your favourite game.
Anyway, if you want to show off your best features, you have to be as fast as possible and have speed navigation skills. Three-dimensional course may be confusing but believe me, this is only the first and then, over time, each level, you will adapt to the dimensional system and enjoy for a long time. However, the developers of Run 4 have thought about the joy of gamers and decided to increase the harder levels to overcome.