Play Bloons Tower Defense HTML5 Game Instruction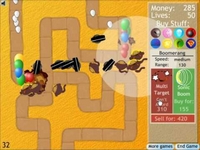 Description
:
Bloons Tower Defense is one of the games that players around the world are most interested in today. With a gentle storyline, also the images of monkeys to prevent the balls, making it easy for players of all ages to sympathize. Besides, the placement of defenses on the routes is also a characteristic of this line of defense games.
Join Bloons Tower Defense, you will together with the monkeys, create a line of gunners, choose favorable locations to place cannon to prevent every step of the bubble army based on the thorough study of the characteristics of Enemy and defensive tactics. Knowing the weaknesses of each type of ball will help you play a lot in the type of warrior to use. The later, the more the ball and they will be harder to destroy. So please arrange carefully to prevent all the worst situations. Besides, players can also accumulate money to build offensive weapons with more destructive power. Try your best with this great game.
With each match, there will not be only one enemy unit that can attack, but two or three can participate in the battle, so the tactics used must be sure based on the accumulated experience to perform. Each map will take us to different battlegrounds, so players should rely on it to deploy the defense of the enemy more effectively. The game will provide detailed instructions for those who first come to Bloons Tower Defense, with each calculation to choose which soldiers, or where to place to be able to prevail over the enemy. In Bloons Tower Defense, you will experience 3 game modes including Assault Mode, Defensive Mode and Battle Arena. In the Assault style, each gamer needs to adjust to balance the process of building defenses with each ball group entering the territory. With Defensive, survived the final match longer than the enemy. As for Battle Arena, try to collect the medal set from winning the opponent. With simple graphics graphics, not too complex gameplay, Bloons Tower Defense game promises to bring you many interesting feelings after school and hard work.