Play Water Ragdoll 2 HTML5 Game Instruction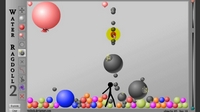 Description
:
Water Ragdoll 2 is a great ragdoll game. This game has simple graphics, suitable for all ages, especially children and families. You can experience this game on your browser. As this is a flash game.
The main goal in this self-applying Water Ragdoll 2 game is to break the doll with different objects. Spend time with your survivors and play with a ragdoll in a room full of water. Create objects and throw them around, hook on ropes, and have fun. You can combine objects and mannequins with seeing their results.
You can create giant balls and let them fall to the dummy; you can add a bomb to the model, you can build black holes around the mannequin. You can also change the gravity of the room. Use your creativity to experience the game.
When you feel dissatisfied, you can delete unnecessary objects. Besides, you can also adjust the water in the room. Good luck and have fun with Water Ragdoll 2.