Play Strike Force Kitty 2 HTML5 Game Instruction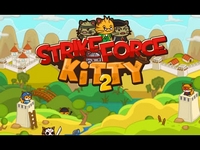 Description
:
Strike Force Kitty 2 is the sequel to Strike Force Kitty, an interesting game belonging to the popular strategy game genre.
Strike Force Kitty is in trouble again in StrikeForce Kitty 2! The sly foxes are attacking the city and they have an army! Stop the invasion of the pussy and help the cat king protect his kingdom. Command that platoon to destroy the conquest of the Fox king. Train your kitty army and let those foxes not mess with the cats! Sharpen your claws, practice your hiss, and get ready to scratch and bite your!
Your mission in Strike Force Kitty 2 is to complete the level by collecting fish and defeating your enemies. Each level is filled with a variety of different opponents. When you encounter a group of enemies, a fight will automatically begin. Did you fail to defeat them this time? Do not worry! Collect more fish and use them to train members of your kittens. Each kitten in your army has 3 stats that you can improve. Health allows them to survive longer, attack stats represent the damage they inflict in battle, and increasing their speed stats will make them much faster. Your enemies will wear different outfits based on celebrities from movies and other video games. You might come across a fox in Minion's costume, or Lara Croft from Tomb Raider. Even if you defeat your enemies, you can collect their equipment, they will drop one piece at a time, so come back to collect all the items and complete the outfit. Complete costumes will give your kitten new abilities, you can equip your outfit in the changing room area.In the game, you can also find some treasure chests. This chest will give you a raffle ticket, which you can use to earn new costumes and more.
With lovely characters and beautiful graphics, StrikeForce Kitty 2 is sure to become one of your favorite online games, whether you are a cat or not. How do foxes dare to attack your perfect city? Time to take revenge!