Play Bob The Robber 5 HTML5 Game Instruction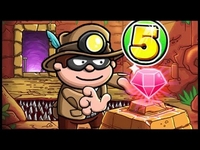 Description
:
Bob The Robber 5: The Temple Adventure is an addictive arcade game in which you have to help bob robber from the ancient temple with a bag full of treasures.
This is a new adventure of Bob the Robber in a temple reminiscent of the Temple of Doom of Indiana Jones. The world-famous thief is about to start his biggest adventure! Join Bob while he delves into this temple in search of a truly great treasure. He will need to keep an eye on dangerous mummies while he searches for all that.
Eliminate your enemies, hide from the camera and use all kinds of gadgets to overcome your obstacles. You may even have to cross a giant rock-like Indiana Jones!
Lead him through each level, collect every coin to get 3 stars after completing. Prove to the world that you are still the best cat thief in this fun and addictive online game.
You can defeat most mummies, witches and guards – however, you won't win a wrestling match with lasers or rocks.