Play Hobo 6 HTML5 Game Instruction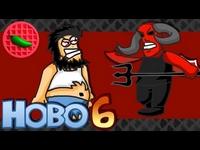 Description
:
Hobo 6 will play the role of a wanderer who destroys all the demons trying to harm you by using your own body to punch, kick and even fart, pee at the enemy. Hobo has died and gone to hell, and he needs to face enemies who are demons with two horns on their heads, they are very aggressive and have weapons that can easily damage you. Always moving around you, they carry weapons such as sticks, stones and many other things.
You use your own body, punching, kicking, deflecting, peeing, taking weapons and other common combos to damage enemies and destroy them. Escaping a fight with demons will not be easy but no one else is more suitable than you to complete it. Hobo is the perfect person to put the demons in their place and with your help and his excellent fighting skills; these demons are in a deadly battle.
You and the demons have a bar that displays a state of health when this bar is exhausted, it is time for you or them to be destroyed.
Become the winner and go to the next level by destroying all the demons present there. Later levels, the demons will be much more aggressive and fierce.