Play Horse Simulator 3D HTML5 Game Instruction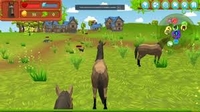 Description
:
Horse Simulator 3D is a great 3D simulation game, this is a simple simulation game for all horse lovers.
In the Horse Simulator 3D game, your task is to control a cute horse on a beautiful island to complete various tasks and ensure your horse is healthy, strong and beautiful to complete. different challenges. Perform different missions, start an adorable family, win different competitions, make your horse stronger and more beautiful, decorate your home, fight with predators in Forest, help other good people and do more.
Follow your horse. Please take care of his needs. Feed the horse, feed it, and hang out. Discover the secrets of their area. The game is going on in a farm, on the meadow. You start always beside your stable. Use hay, flowers or bushes to feed horses. Drink water to refreshments. Across the vast area to collect a lot of stars appear and disappear in different locations. Collect golden stars, so don't open the mysterious trunk full of surprises. The horse can visit its home.The horse can rest and gain a new power for his journeys. When you are at home, you can find many interesting things. Buy more things for your horse to make it for. This is a store where you can shop for currency, just bought in-game – gold horseshoes.
Help the villagers in different missions. Protect people and animals from danger. Play different mini games. Compete in speed races with other animals. More adventures are waiting for your horse!
Feature of Horse Simulator 3D game
A huge map with many different islands
Various missions to complete
Many friendly and ferocious animals
Plants are the main food for hores
You can make a horse family
3D graphics with smooth movements.