Play Kingdom Rush HTML5 Game Instruction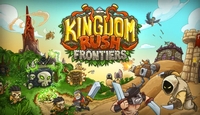 Description
:
Kingdom Rush is a game that protects your kingdom from enemy attacks by building lots of towers with different abilities to attack them. The game will help you train your ability to use people and tactics to win every battle.
You have to fight enemies in many locations on the map; each one won, you will receive very useful items and unlock the next level. In each protected location, your mission is to destroy all enemies, so they do not move to the end of the road. The enemy will move into layers, following a certain path with an increasing number of troops and many types of troops with different abilities.
On your side, you will build and upgrade towers along with strengthening troops to fight along the path of the enemy. These towers are built on available locations and require a certain amount of money to build them. There are many towers with different fighting abilities. These towers can create powerful military forces, vast spells at your command. All of these things, when combined, will destroy a lot of strong enemies.
You will fight in many different terrains with many different enemy troops and you need to have your defence strategy, use rain to shoot at your enemies, add reinforcements, command your army. move to another place.
To build towers, you are provided with an initial amount of money, after defeating enemies, you will receive additional money and use this money to buy upgrades.
If your enemies are too strong, and the towers cannot destroy them, you need to buy more towers with new upgrades. You can sell the towers for money and get a place to build new towers.
Fantasy defense game suitable for all Android devices, iOS, computers and be ready to protect the kingdom from the invasion of the bad guys.
There are 8 specialized tower upgrades to customize your strategy: Mighty Barbarians, Forest Rangers, Arcane Wizards, … along with more than 18 tower abilities to battle more than 50 different enemies.
After each win, you can choose the champion to lead your army, each with different abilities and strengths.
The game is suitable for all types of players and can be played online or downloaded to the device whenever downloading will help you play it even without an internet connection.