Play Stick Fighter HTML5 Game Instruction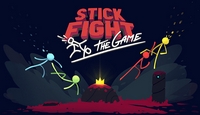 Description
:
Stick Fighter flash action game is fascinating. The game has simple characters and turns them into a physics-based game of two to four players together. You can play with friends or players. Randomly across the world, fight with them and survive as long as possible, the last survivor will win. Players can use any means possible to eliminate opponents, even By using weapons and guns, there will be weapons that can be taken by each player.Fight and destroy the opponent's place to learn to fall down. fast or long depending on the ability of you and your opponent The game allows you to create animations on a daily basis Flip the screen with a simple touch screen interface Change the size and color of your objects if you like, edit and save your creations, then watch cartoons on your phone or share your animation with others or export to video and watch on your computer.
The game has about 80 highly interactive levels with lots of weapons and constantly changing environments and a lot of dangers that bring surprisingly attractive and addictive to players of all ages.
Its multi-player capabilities also make it possible to enjoy with friends or family. Even if you complete all the levels, it's still fun to get back to the start and challenge new friends or choose a random player from around the world.