Play 3 Pandas HTML5 Game Instruction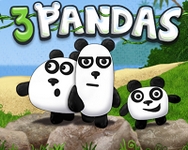 Pirates are coming to the panda's forest and they successfully captured 3 Pandas. Now, the pandas must escape to save their lives. Use your surroundings and the pandas' special abilities to interact with nearby objects and reach the exit. You will love 3 Pandas!
In every game, you will find puzzles that you can solve by using the different skills of these panda brothers. From an enchanting fantasy realm to the serene hamlets of Japan, try to find a way out in each level. Make the pandas climb on each other to reach a high platform or throw the little panda brother above an obstacle to activate that lever! Fight with dragons, goblins, pirates, and more with these fantastic free games.