Play Gun Mayhem HTML5 Game Instruction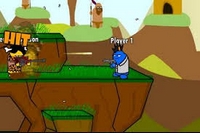 Gun Mayhem, also known as the harsh arena is a free shooting game. Where the main task of the player is to fight and stand to not fall out of the arena. With a funny cartoon style , this game attracts a large number of players around the world. If you are looking for a game that brings you happy laughter with your friends, this is a wise choice.
Is a very good shooter game with the screen shot chasing each other like action movies on an eye-catching terraces arena. Gun Mayhem allows players to customize and choose a lot of play styles. From survival, team fighting to participate in challenging campaigns. Most firearms weapons used in the game are very realistic. Just start this game and you will see how attractive it is.
Gun Mayhem gives players a lot of good emotions. Experience intense match with up to 4 players at once. Fun moments with friends, happy teamwork are waiting for you ahead. Gun Mayhem brings one of these interesting and entertaining flash games. Challenge the ability to aim, quick reflexes, as well as your sharpness in the shooting game, is very attractive with a lot of small topics such as shooting dinosaurs, the army, shooting animals …